Types of Certified Carbon Offsets


Methane abatement (such as landfill gas recapture)
Energy Efficiency Projects
Reforestation
Fuel Switching (from oil to natural gas, propane, etc.)


Carbon Offsets can also be sourced from renewable energy such as wind generation, solar, and biomass projects; however, these types of credits must be converted from renewable energy credits to carbon offsets.
Where the Money Goes
Carbon Offset Revenue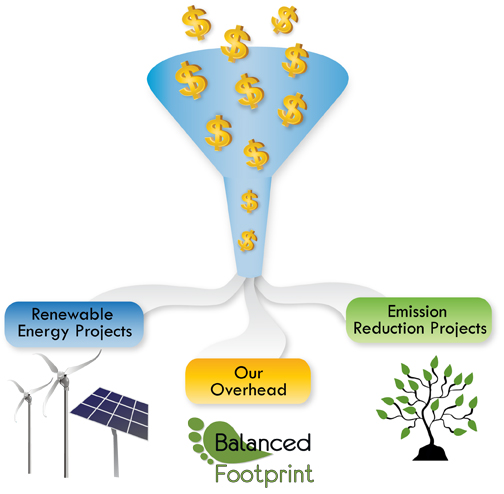 When you purchase carbon offsets from us, we in turn buy and retire the correlating amount from projects that have been independently verified as having reduced carbon emissions. The percentage of your purchase dollar allocated to each project varies by our cost of the offsets, which fluctuates with the wholesale market prices of the day.


More on Carbon Offsets

A carbon offset represents the reduction of one metric ton of carbon dioxide or its equivalent in other greenhouse gases. Offsets are created as a financial support mechanism for projects that reduce the emission of greenhouse gases. These projects include renewable energy, methane abatement, energy efficiency, reforestation and fuel switching.


Formal standards for quantification have been established based on collaboration between emitters, regulators, environmentalists and project developers. These standards include the Voluntary Carbon Standard, Green-e Climate Protocol for Renewable Energy, Chicago Climate Exchange, CDM Gold Standard and the Climate Action Reserve. Balanced Footprint obtains independent certification that offsets purchased on your behalf are accurately measured and meet these strict guidelines and standards.